Experts Project Home Prices Will Rise over the Next 5 Years
Even with so much data showing home prices are actually rising in most of the country, there are still a lot of people who worry there will be another price crash in the immediate future. In fact, a recent survey from Fannie Mae shows that 23% of consumers think prices will fall over the next 12 months. That's nearly one in four people who are dealing with that fear – maybe you're one of them.
To help ease that concern, here's what the experts say will happen with home prices not just next year, but over the next five years.
Experts Project Ongoing Appreciation
While seeing a small handful of expert opinions may not be enough to change your mind, hopefully, a larger group of experts will reassure you. Here's that larger group.
The Home Price Expectation Survey (HPES) from Pulsenomics is a great resource to show what experts forecast for home prices over a five-year period. It includes projections from over 100 economists, investment strategists, and housing market analysts. And the results from the latest quarterly release show home prices are expected to go up every year through 2027 (see graph below):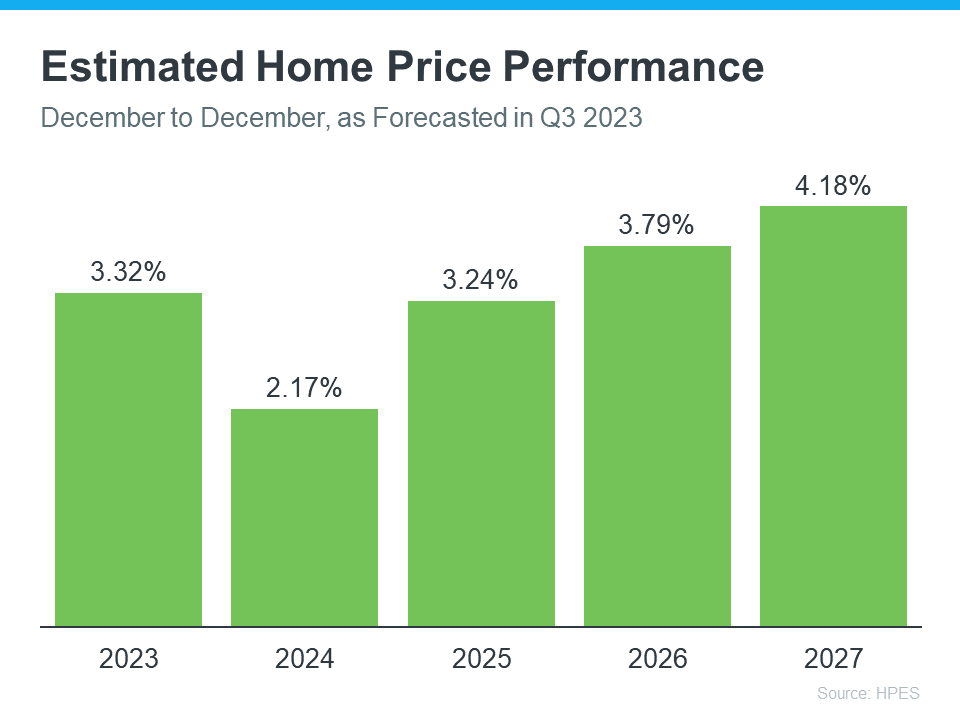 And while the projected increase in 2024 isn't as large as 2023, remember home price appreciation is cumulative. In other words, if these experts are correct after your home's value rises by 3.32% this year, it should go up by another 2.17% next year.
If you're worried home prices are going to fall, here's the big takeaway. Even though prices vary by local area, experts project they'll continue to rise across the country for years to come at a pace that's more normal for the market.
What Does This Mean for You?
If you're not convinced yet, maybe these numbers will get your attention. They show how a typical home's value could change over the next few years using the expert projections from the HPES. Check out the graph below: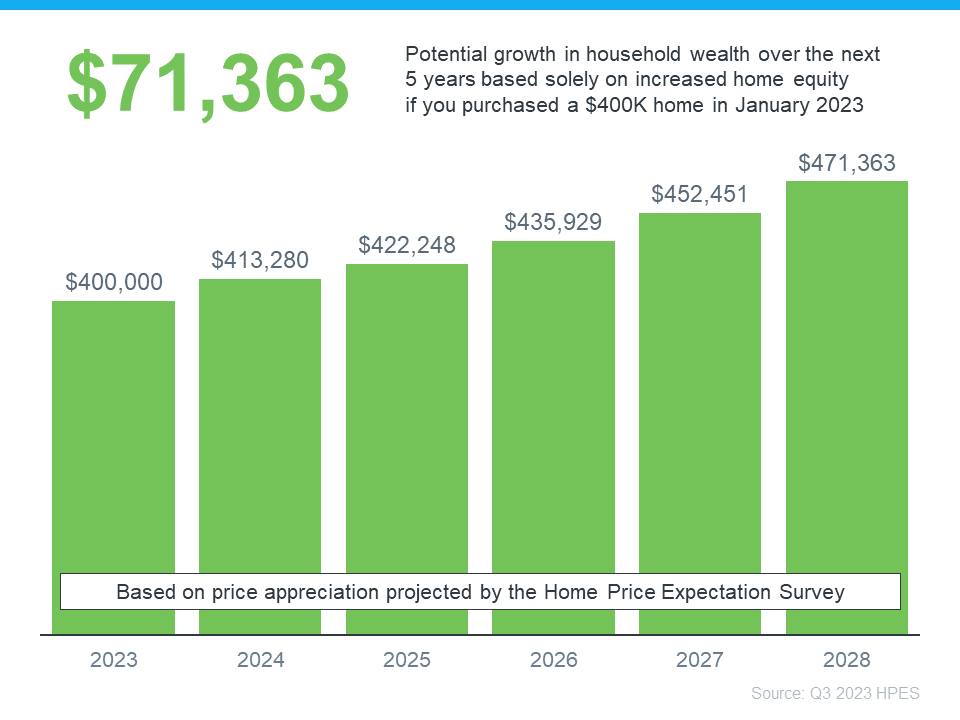 In this example, let's say you bought a $400,000 home at the beginning of this year. If you factor in the forecast from the HPES, you could potentially accumulate more than $71,000 in household wealth over the next five years.
Bottom Line
If you're someone who's worried home prices are going to fall, rest assured a lot of experts say it's just the opposite – nationally, home prices will continue to climb not just next year, but for years to come. If you have any questions or concerns about what's next for home prices in our local area, let's connect.
Unveiling the Crystal Ball: Experts Project Home Prices Will Rise over the Next 5 Years
In the ever-evolving landscape of real estate, where uncertainty often reigns supreme, one thing appears to be gaining clarity: home prices are poised for an upward trajectory. Buckle up as we delve into the insights provided by a recent survey from Fannie Mae, unlocking the enigmatic forecasts laid out by investment strategists and housing market analysts.
The Prophetic Home Price Expectation Survey
Picture this: a symphony of data, a cacophony of opinions, all orchestrated into a crescendo of projections. This is the essence of the Home Price Expectation Survey (HPES), a compass that guides us through the labyrinth of real estate predictions. Like seers peering into a crystal ball, experts peer into the future of our homes' worth.
In the realm of speculation, investment strategists stand as the modern-day soothsayers. Armed with market acumen and statistical prowess, they scrutinize the past, present, and potential future. According to this cabal of financial visionaries, the consensus is clear: the needle on the home value gauge is pointing north.
The Tapestry of Expert Opinions
Let's eavesdrop on the whispers of these housing market analysts, as they decode the cryptic language of property valuation. Their veritable crystal ball reveals a panorama where each brick laid and each shingle placed contributes to the ever-growing mosaic of a home's value.
In the echo chamber of expert opinions, the resounding refrain is that a home's value is set to soar. It's not just a matter of transient spikes; it's a sustained ascent that promises a robust future for homeowners. As we dissect their deliberations, patterns emerge, woven into the very fabric of our housing market.
Unveiling the Alchemy of Home Prices
What sorcery is at play, you might wonder, to transform mere bricks and mortar into appreciating assets? The alchemy lies in a potent mix of economic indicators, market trends, and, most importantly, the indefinable allure of a place called 'home.'
Home prices in our local area find themselves at the epicenter of this metamorphosis. The local landscape, with its idiosyncrasies and peculiarities, becomes the canvas upon which the experts paint their strokes of foresight. It's not a generic prophecy; it's a tailored augury, finely tuned to the nuances of our community.
The Dance of Supply and Demand
As we navigate this labyrinth of predictions, the dance of supply and demand takes center stage. The ballet of buyers and sellers, a delicate interplay that determines the rhythm of the market, is a key factor in the upward trajectory of home prices.
Consider this: a surge in demand, driven by economic prosperity or lifestyle shifts, becomes the maestro orchestrating a symphony of rising prices. Simultaneously, a limited supply of housing inventory becomes the elusive muse, propelling the value of homes skyward. It's an intricate dance where scarcity meets desire, resulting in an appreciation waltz.
Economic Resilience: A Pillar of Home Value
In the lexicon of investment strategists and housing market analysts, economic resilience emerges as a cornerstone of a home's value. A robust economy, akin to a sturdy pillar, provides the necessary support for the edifice of home prices.
Consider the recent survey from Fannie Mae a thermometer gauging the economic temperature. When the mercury rises, indicating economic health, the prognosis for home values becomes optimistic. It's a correlation that transcends the realm of mere speculation, grounded in the empirical data of economic indicators.
Beyond Bricks: Lifestyle and Location
While economic factors form the bedrock of predictions, the experts also cast their gaze beyond the tangible aspects of property. The ethereal elements of lifestyle and location add layers of complexity to the prophecy.
A home, in the eyes of these analysts, is not just a structure; it's a vessel for a lifestyle. The demand for certain locales, driven by amenities, schools, and community vibes, becomes an integral part of the home value equation. Thus, the prediction isn't solely about the physical space but a projection of the intangible allure that a location exudes.
Investing with Foresight
For those with an eye on the horizon, these projections become more than just insights; they become a guidebook for strategic investment. As the experts foresee the appreciation of home prices, the astute investor discerns an opportunity to sow the seeds of financial growth.
However, it's not a one-size-fits-all strategy. Local nuances, market dynamics, and individual preferences play pivotal roles in crafting an investment plan. What holds true universally is the underlying trend: the home as an appreciating asset, a canvas upon which the strokes of financial growth can be painted.
Conclusion: Navigating the Future of Home Values
In the tapestry of real estate, where threads of data, expert opinions, and economic indicators intertwine, a picture emerges—a picture of rising home prices. The recent survey from Fannie Mae, the symphony of the Home Price Expectation Survey (HPES), and the insights of investment strategists collectively paint a canvas where the value of our homes is set to ascend.
As we navigate the future, armed with the insights of housing market analysts, we find ourselves in a realm where bricks and mortar transcend their physicality. They become vessels of investment, repositories of lifestyle, and, ultimately, appreciating assets in the grand saga of real estate. The experts have spoken, and the message is clear: the value of our homes is on an upward trajectory, a journey into a future where each brick laid becomes a stepping stone toward financial prosperity.
Embracing the Future: Strategic Considerations for Homeowners
For current homeowners, this foresight brings a dual-edged sword. On one hand, the prospect of their home's value ascending is a cause for celebration—a feather in the cap of their investment. On the other, it triggers contemplation about the potential ramifications and strategic considerations.
Home's value rises not only on the whims of market forces but also in response to the care and enhancements invested by homeowners themselves. Renovations, upgrades, and meticulous maintenance become not just acts of love for one's abode but strategic moves in the real estate chessboard.
Consider this an opportune moment to reassess your property, to contemplate improvements that not only enhance your living experience but also contribute to the future appraisal of your home. It's a symbiotic relationship, where your investment in your property pays dividends in both comfort and financial value.
Navigating the Market Waves: Tips for Prospective Buyers
For those contemplating entering the real estate arena, the projection of rising home prices becomes a compass guiding their journey. The experts' consensus serves as a roadmap for prospective buyers, offering insights into the optimal timeframes, locations, and types of properties that align with their aspirations.
However, in this landscape of opportunity, a word of caution resonates. The surge in demand, fueled by the anticipation of rising home values, can become a double-edged sword for buyers. As demand intensifies, so does competition, potentially leading to escalated prices and a narrower pool of available options.
To navigate these market waves successfully, prospective buyers should equip themselves with not just financial readiness but also strategic acumen. Flexibility, a clear understanding of personal priorities, and the ability to adapt to market dynamics will be invaluable traits in this journey.
The Local Flavor: Decoding Home Prices in Our Area
Amidst the overarching trends and macroeconomic factors, the microcosm of our local area remains a crucial consideration. While the experts provide a panoramic view, the nuances of our community, its growth prospects, and unique attributes become the color palette painting the final strokes of the home value canvas.
Engage with local real estate professionals, tap into the wisdom of community insights, and understand the pulse of the neighborhood. The recent survey from Fannie Mae might provide a broad overview, but it's the localized knowledge that transforms information into actionable intelligence.
Economic Variables: The Pendulum of Home Values
The economic pendulum, swinging between highs and lows, holds sway over the trajectory of home prices. Understanding these variables isn't just the purview of economists and investment strategists; it's a tool for every homeowner and prospective buyer.
Interest rates, employment trends, and economic policies—each becomes a cog in the machinery of home value dynamics. For homeowners, it underscores the importance of financial literacy, particularly in comprehending how these variables can impact mortgage rates and the overall affordability of homeownership.
For prospective buyers, it emphasizes the need for flexibility and timing. Economic indicators aren't static; they're a dynamic orchestra, and the savvy buyer dances to the rhythm of these ever-changing notes.
Looking Beyond the Horizon: A Final Word
In the grand tapestry of real estate, where every brick laid is a chapter in a story of value, the experts' projections offer us a glimpse into the future. The recent survey from Fannie Mae, the insights of investment strategists, and the wisdom of housing market analysts collectively weave a narrative of ascending home prices.
As we embrace this narrative, whether as homeowners or prospective buyers, let's not just be passive spectators. Let's become active participants, architects of our own real estate destiny. Strategic renovations, informed investments, and a keen understanding of local dynamics will be our tools in navigating this landscape.
The journey ahead is one where the value of our homes is not just a number on paper but a reflection of our choices, our aspirations, and the collective dynamics of the market. So, as the experts declare the rise of home prices over the next five years, let's embark on this journey with eyes wide open, ready to shape our own real estate destinies in the chapters yet to unfold.
Bottom line
In the symphony of real estate forecasts, the experts have spoken unequivocally: brace yourselves for an ascent in home prices over the next five years. Fueled by the recent survey from Fannie Mae, the insights of investment strategists, and the acumen of housing market analysts, the trajectory is clear.
For current homeowners, this revelation is an opportunity to strategically enhance their properties, transforming not only living spaces but also investments. Renovate with foresight, for each improvement adds not just comfort but potential appreciation to your home's value.
Prospective buyers, armed with the foresight of rising home values, should tread carefully in the competitive market. Flexibility, financial readiness, and a nuanced understanding of local dynamics become their guiding lights in this journey.
Amidst the macroeconomic currents, the local flavor plays a pivotal role. Engage with the community, tap into local insights, and understand the unique attributes shaping home prices in our area.
The economic pendulum swings, impacting the affordability and dynamics of homeownership. Whether a homeowner or a prospective buyer, understanding these variables becomes a tool for navigating the undulating landscape of real estate.
In conclusion, as we look beyond the horizon, let's not be passive spectators to the rise in home prices. Let's be active architects, shaping our real estate destinies with strategic choices, informed decisions, and a keen awareness of the market forces at play. The journey ahead is one where every brick laid becomes a brushstroke in the canvas of our real estate narratives, and the experts have set the stage for a chapter of appreciation in the value of our homes.
Read from source: "Click Me"
– "Experts Project Home Prices Will Rise over the Next 5 Years" –
The Christian Penner Mortgage Team | Cell/Text: (561) 316-6800
We Specialize in All Types of Financing, Mortgage Loans and Real Estate Deals.
We have been in the Mortgage and Real Estate Business since 1997!
Personal Profiles:
HomeBot: Build more wealth with your home
Our goal for you is to help you to minimize your tax liability and maximize your cash flow. In today's market, a mortgage loan is more than ever a financial instrument that must be tied into your long and short-term personal financial plan. This will allow you to create a debt strategy that will help you to build long-term wealth for you and your family.
Check Our Reviews:
Residential Financing Options:
Most all loan options are available in just about every state in the country : VA | FHA | USDA | Fannie/Freddie Conventional Loans |Reverse Mortgages | Jumbo Reverse Mortgages | Self Employed Loans | Bank Statement Loans | Investor DSCR Loans | Private Hard Money Loans | Fix & Flip Loans | Bridge Loans | No Ratio | No Income Primary Residence Loans | Jumbo & Super Jumbo loans to $50M.
Temporary Interest Rate Buy-downs on a fixed-rate conventional | FHA | VA loans: 3-2-1, 2/1 or 1/0.
Luxury Sales & Epic Loan Options:
We work with all types of Real Estate Sales & Financing options for Residential & Commercial Real Estate | Real Estate Developments | Yachts | Aircrafts | RVs | Collector & Exotic Cars | Roof & Solar Financing Packages | Real Estate Closings | Residential & Commercial Insurance.
Commercial Financing Options:
Our commercial division and can do business in any state in the country for all types of Commercial Loans for owner occupied properties or for business purposes from $50k to $500M | bridge loans | new construction loans for both owner occupied & for investors for individual single family Developer or Builder Spec Homes Loans | Townhomes | Condos | Real Estate Projects for Single Family Home Communities | Townhome Communities | Ground up new construction condominium buildings | Commercial Buildings | Apartment Complex's | Mixed-Use Projects | SBA loans for new businesses | new construction | acquisition | Refinancing an exciting Loan | business purpose loans for A/R | inventory or cash flow | Doctor Loans for Business Acquisition & Commercial Real Estate with LTV's as high as 100% LTV
We are your One-Stop Brokerage for all your Personal Residential Mortgage Financing & Sales | Commercial Real Estate Mortgage Financing & Sales | Commercial Real Estate Developments | Yachts | Aircrafts | RVs | Collector & Exotic Cars | Roof & Solar Financing Packages | Homeowners insurance | Business Purpose personal and commercial needs.
Keep in mind we shop more than 250 residential and over 10K Commercial banks, lenders & mortgage companies to give you amazingly low rates and the largest product line in the country!
If you have any questions or if you have friends, family or clients, that are buying a home & need a mortgage or want to chat about a scenario just contact us right away:
If you apply, please text me your full name and email address 📱561-373-0987 or
3) 📞Call me directly ☎️561-373-0987
Helping You Achieve The American Dream Of Home Ownership.
#AmericasMortgageSolutions #christianpenner #onestopbrokershop #mortgagebrokerwestpalmbeach #epicrealeststedeals #luxuryhomes #LuxurySales&EpicLoanOptions #TheChristianPennerMortgageTeam #buildwealth #mortgagebrokerflorida #theamericandream #finacingtheamericandream #realestate #mortgage #mortgagebroker #thanks #mortgagetips #mortgageadvice #RealEstateJourney #realtor #realestateexpert #realestatelife #realestategoals #realestatetips #realtorlifestyle #realtorsoffacebook #realtorforlife #businesspupose #mortgageloans #HouseHunting #DreamHome #homeownership #vacationhome #secondhome #homebuyer #interestrates #HousingMarket #stoprenting #commercialloans #ResidentialRealEstateDevelopments #CommercialRealEstateDevelopments #Yachts #Aircrafts #RVs #CollectorCars #ExoticCars #roofsolar #solar #roofSolarFinancingPackages #buildequity #planforyourfuture #buildyoufuture #television #host #tvproduction #streaming #travel #amazon #motivational #Agentmastermindclass #HorseFarms #EquestrianCenters #Vineyards #FruitandVegetableFarms #HobbyFarms #RealEstateInvestment #LuxuryRealEstate #PropertyManagement #RealEstateDevelopment #RealEstateAdvice #HomeStaging #RealEstateGoals #PropertyListing #EcoFriendlyHomes #RealEstatePhotography #UrbanRealEstate #SuburbanHomes #RuralProperties #RealEstateMarket #RealEstateForSale #RealEstateBrokerage #HomeRenovation #RealEstateTech #SmartHomeTechnology #GreenRealEstate #RealEstateNetworking #RealEstateSeminars #RealEstateLaw #RealEstateFinance #LuxuryApartments #CommercialProperties #RealEstateAuctions #HistoricHomes #WaterfrontProperties #CondoLiving
🔍 Whether you're looking for financing 💰 or to BUY 🏡, SELL 🔄, LEASE 📝, INVEST 💹 or BUILD YOUR DREAM HOME 🏗️ or OFFICE 🏢 on Residential Properties 🏘️, Commercial Real Estate 🏬, or Development Commercial Real Estate 🏗️, Yachts 🛥️, Aircrafts ✈️, RVs 🚐, or Exotic Cars 🚗 – call us TODAY 📞. No matter the NEED 🎯 or GOAL 🏆 – let's make CONFIDENT decisions together 👥💼.
Christian Penner, CMA
President | CEO | Mortgage Broker
NMLS#368289
America's Mortgage Solutions, Inc NMLS#
2009420
Cell/SMS: 561-373-0987
Direct/efax/SMS: 561-316-6800